Welcome to Voices of Eve, LLC Childbirth Course!
I am so grateful to be on this journey with you! Before you dive into the course I have a few things to help guide you through the course.
1. None of the information in this course is meant as medical advice. Do not take the advice in this course over the advice of a care provider.
2. I know that everyone learns differently so I try to have a variety of learning elements throughout the course. This means that some information is repeated but I hope that makes it easier to absorb the information for everyone.
3. I have activities throughout the course that can help reinforce what you have learned. This isn't homework you won't be graded but as with anything the more you put in the more you will get out of the class.
4. You have access to this course for a year so I encourage you to not go through the course to quickly. Take the time needed to learn and absorb all of the information.
5. The content of this course is meant to be unbiased. That being said it is hard to find unbiased sources and there may be times that it may come across as biased. That is not my intention and I am continually working through the content to make it as straight forward as possible and not leaning one way or another.
6. All of the content in this course was obtained from scientific and verified sources, and not the personal opinion of anyone or any source.
7. This course is not perfect or all encompassing. But it is continually growing. I consider this course to be a lifelong project and as new information comes and as I learn more I will continue to add to it. So thank you for your patience and support! When you signed up for the course the e-mail you provided was added to an e-mail list so that you will get notifications if the course changes. It is easy to unsubscribe from this list and you will automatically be unsubscribed when your subscription to the course expires.
8. Please note the 4 buttons below and take advantage of them!
– The course checklist:  can help you easily remember what topics you covered, be a place to write down questions, and serve as a map for the course.
– The enrollment agreement: is a requirement for the course. If you have not already please fill it out.
– The course evaluation: is a valuable tool for me to continue to improve on this course.
– The message Abbey: Please message me with any and all questions! I am always happy to help.
I hope you enjoy the course
Download this checklist to check off as you work through the course!
Sign this enrollment agreement before you proceed through the course.
After you complete the course fill out this course evaluation to help us improve the course!
If at any point you have any issues or questions feel free to message you instructor Abbey here!
Section One: Pregnancy
In this section we will go over basic topics of pregnancy such as having a healthy pregnancy, coping with common pregnancy discomforts, recipes, and herbs.
Video 1: How to Encourage a Healthy Pregnancy, Labor and Birth:
Section Two: Emotional and Mental Aspects of Labor and Birth
In this section we will discuss the aspects of your past and state of mind that can effect your pregnancy, labor, and birth and how to hopefully address those issues before birth.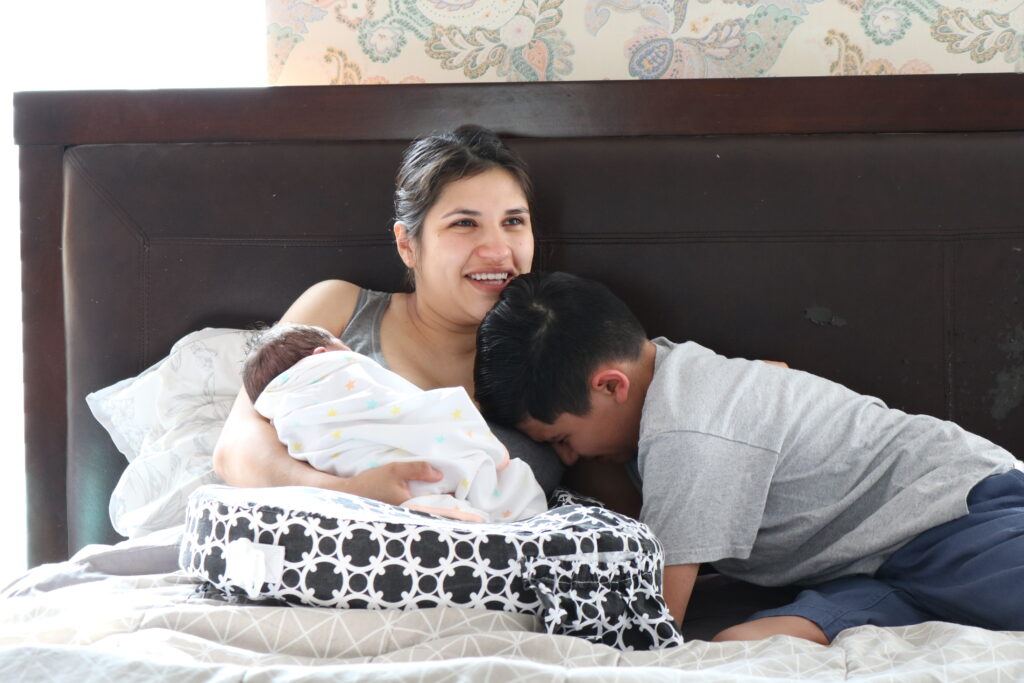 Video 2: Emotional and mental aspects of Labor and birth: 
In this section we will discuss how your state of mind can effect you during labor and how you can address those issues before birth.
Section 3: Birth Plan
In this section we will be discussing everything you need to know to create a birth plan that is best for you, your family, and your baby.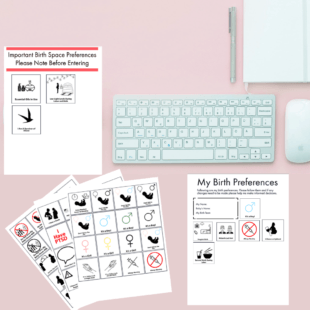 Video 3: Creating Your Birth Plan
In this video we will cover what a birth plan is and what you need to know to make your birth plan the best for you
Every labor and birth is different. There is no way to predict every aspect of it. Creating a birth plan is like creating a plan for what would be ideal, knowing that sometimes things change. 
A birth plan helps lay out simply for your care provider and staff to know exactly what your needs are. Hopefully you will have a care provider who has built a relationship with you and hopefully they will remember and have in your chart all the desires for your birth. But having a physical birth plan with you will account for any possibilities especially the likelihood of a care provider or staff you have not met.
It can also help to have your goals in writing so that you can feel more sure and confident.
It is also helpful for your doula if you choose to have one!
1. Let baby choose their birthday. Avoid inductions as it causes unnatural labor, and increases likelihood of complications and interventions. Baby's lungs actually release the hormones that start labor! If Induction becomes necessary learn about your options in advance so that you can make an informed decision.
2. Choose the provider and birthing place that best fits your desires for your birth: Ask any potential provider lots of questions! If you don't feel confident they fully support your plan choose another provider and/or birthing place. For instance if you are choosing a VBAC make sure that your provider has low C-section rates and is fully supportive of your plan!
3. Practice whole body relaxation: Meditation apps are great for this, also yoga, and breathing exercises! These relaxation techniques can often be translated into the labor space and incorporated into your birth plan. And practicing them during pregnancy will help them flow easier during labor.
4. Get birth educated: The more informed you are the better your birth plan will be. It is also the best way to know exactly what you want in your birth plan and why.
5. Practice whole body relaxation: Try meditation apps and/or pregnancy yoga! These relaxation techniques can be then used in labor too!
Keeping all of these steps in mind when creating your birth plan will be a big help in creating a birth plan that serve your physical, mental, and emotional well being.
Activity: Start making your birth plan (remember that your plan can develop and change over time, nothing is finalized until baby is in your arms).
Begin by asking your self these questions:
– What kind of safe birth do I want? (medicated, unmedicated, hospital, birthing center, etc.)
– What kind of safe birthing environment do I want? (quiet, low lighting, specific music, etc.)
– What are my medical needs in birth? ( I am choosing a Vaginal Birth After C-section (VBAC), I am a surrogate, I am allergic to latex gloves, etc.)
– What are your needs postpartum? (I have a history of heavy bleeding after birth, I want to delay cord clamping, etc.)
– What have you decided about your child's first few days? (vaccinations, first bath, etc.)
Using these questions you can have a starting point for what the main purpose or purposes in your birth plan are. You can flesh it out and expand it based on what you find in your research and what needs arise during your pregnancy.
Use this Birth Plan format to help you lay out your birth choices in a clearand thorough manner.
Use this Birth Plan Questionnaire to help make sure you cover most if not all of your options in birth. Research each option and discuss each option with your care provider.
Video 4: What is a doula?
In this video we will cover what a doula is, what their role is in pregnancy, labor and birth, and how they can benefit you in your birth.
A doula Supports families emotionally, physically, emotionally, and by advocating for them.
There are many kinds of doulas for many kinds of situations. Some examples of doulas are Birth Doula, Postpartum Doula, Bereavement Doula, and Sibling Doula. Doulas also have many different styles for example VBAC focused doula, Hippy style doula, Plus size mom doula, and so much more!
I encourage you to explore the doula options that best fit your family needs and then interview potential doulas and find a doula who's style best fits your needs.
Here is some information on Birth Doula Support:
A Birth Doula Does: Support Mothers and families through physical support, emotional support, informational support, and advocacy.
A Birth Doula Does not: Support clinically, medically, give medical advice, or take over for the role of, partner or family member, or care provider.
They are an added tool to help you succeed in the elements of your birth plan!
Evidence of Birth Doula support:
– 25-39% decrease in risk of C-sections.
– 8-15% increase in likelihood of spontaneous vaginal birth.
– 10% decrease in use of medications for pain relief.
– Shorter labors by an average of 41 minutes.
– 38% decrease in the baby's risk of low 5 minute Apgar score.
– 31% decrease in the risk of being dissatisfied with the birth experience.
What should you ask a potential Doula?
It is important to decide if you want a professional doula or a friend or family member advocating for you. Having a professional doula is helpful in a variety of ways. Doulas have general medical knowledge to help translate between you and your care provider, They have experience of labors and births so they know how best to apply counter pressure and massages, they also have a general knowledge of positions and activities to perform during labor to help it progress or help ease pain and tension. Below are some questions you could ask when interviewing a doula.
1. What training and experience do you have?
2. What is your philosophy about birth and maternal care?
3. What do you feel is your scope as a doula?
4. What do your services include?
5. What types of birth places do you work with.
6. Do you have a back up?
7. Do you offer payment plans?
8. How would you describe your doula style?
9. Why did you become a doula?
10. At what point should we contact you during labor? When do you typically join your clients?
11. How do you work with husband, partners, families, etc?
12. How would you describe your style when working with hospital/birthing center staff?
13. Do you have any additional services?
14. Is it possible to read any reviews or testimonials?
Check out
this video
on how to safely hire a doula that will be best for your needs!
Activity: If you are wanting to have a doula find a doula in your area who can help you decide if a doula is right for you and start interviewing
Video 5: Making Informed Decisions
Informed Consent: "Is fundamental in both ethics and law. Patients have the right to receive information and ask questions about recommended treatments so that they can make well-considered decisions about care. Successful communication in the patient-physician relationship fosters trust and supports shared decision making." – American Medical Association
Remember, It is not your job to ask your care provider's permission, it is your care provider's job to ask your permission. And if their recommendation is truly what is best for your care then it should be easy for them to provide risks and benefits for making the choice.
With any choice use the Informed Consent Steps B.R.A.I.N to make sure you have all the information to make the best decision for your care! Feel free to use the below graphic to help! Also save it to your phone or print it out to keep with your birth plan!
It is always best when working through informed consent with your care provider to be respectful of them and their position. It doesn't mean that you have to do what they say but your best chance for better care is to be kind and respectful while being sure of your rights and wishes.
Activity: Go over the B.R.A.I.N steps with your care provider at your next prenatal visit. It can be a good way to test if your care provider is on board with you making informed decisions!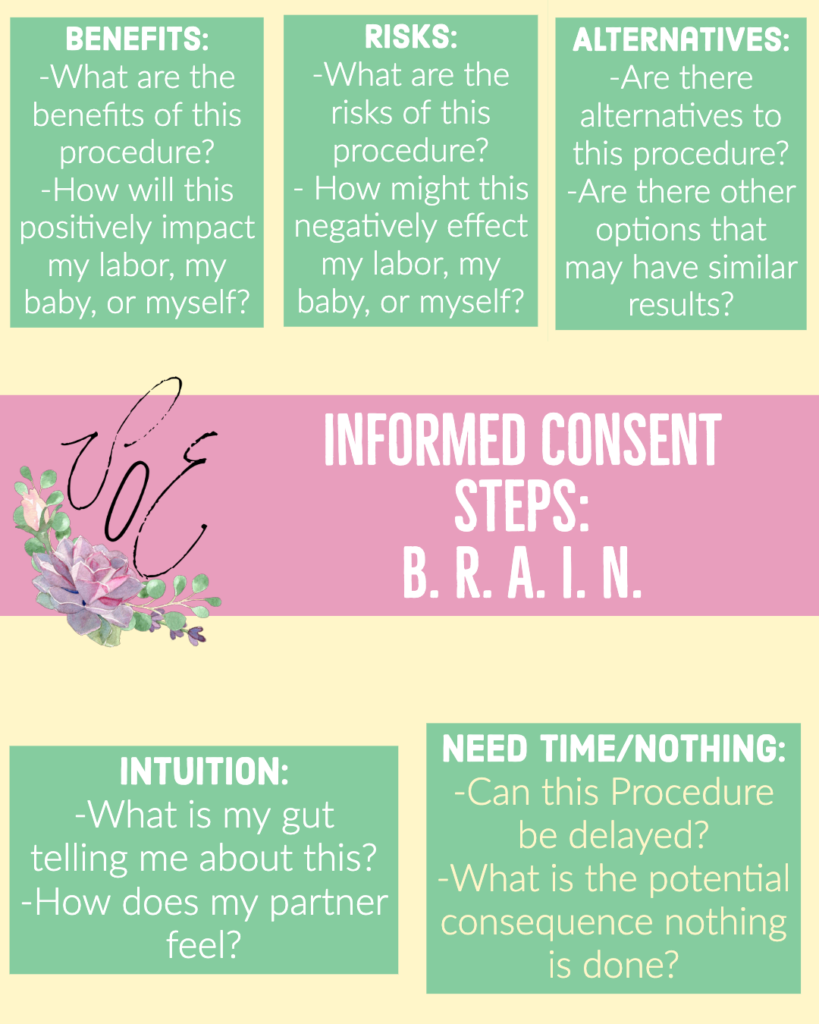 Video 6: Your Rights As a Parent And As a Patient
In this section we will cover your legal rights that cannot be taken away from you under any circumstances
These are you patient and parental rights. If you feel these have been violated at any point contact the care provider's HR person, the head of the hospital, the head of the nursing staff, any and all of these people must know if your rights have been violated.


1. You have a right to healthcare during pregnancy and after birth.
2. You have the right to healthcare that is consistent with current scientific evidence.
3. You have the right to choose a midwife or a physician.
4. You have the right to choose your birth setting
5. You have the right to leave a caregiver if they do not meet with your needs or likes.
6. You have the right to information about your care providers views on interventions and methods in labor and birth. As well as their C-section statistics.
7. You have the right to privacy.
8. You have the right to receive maternity care that addresses all of your physical and social needs.
9. You have the right to be fully informed in every decision by being made fully aware of all benefits, risks, and cost of all care related elements of your birth.
10. You always have the right to accept or refuse anything offered by your care provider.
11. You have the right to be made aware if your provider wants to include information about you or any of your family members in a research study.
12. You have the right to care that is appropriate for your culture and/or religious preferences.
13. You have the right to have anyone in the room with you that you desire.
14. You have the right to receive full in advance information of risks and benefits.
15. . You have the right to freedom of movement in labor.
16 . You have the right to uninterrupted contact with your newborn.
17. You have the right to complete information about and benefits of breastfeeding.
18.  You have the right to make decisions collaboratively with your caregivers.
19. You have the right to continuous emotional, physical, and social support.
20. You have the right to unrestricted access to all of your records at any time.
Source Childbirth Connection   
Video 8: Interventions
In this video we will discuss risks and benefits of interventions as well as what qualifies as an intervention.
Video 7: Natural Induction Methods
Any home induction technique you try should only be attempted when you are well rested, well hydrated, and after a good meal! Also preferably after you have treated yourself to a relaxing activity. All of them should also only be attempted after you have passed the 38 week mark (preferably after you have passed the 40 week mark) and after your care provider gives you the go ahead. Also do not attempt them daily. Try for a day or two then give your body some time to rest for a day or two. Remember birth is a marathon don't go into it exhausted. Make plans to relax in the week leading up to your due date. Like taking a nice
herbal bath soak
. Here are some methods you can try along with some of the risks and benefits. 
– Sex: Most studies show that there is a slight increase in chance of inducing labor but a few studies have shown the opposite.
– Mild Exercise: Highly recommended. May not produce active labor but likely to help you be healthy for a natural labor.
– Nipple Stimulation: Use only under the guidance of you provider. It is very effective at releasing oxytocin and causing contractions. Could help in causing active labor but can also wear the mother and baby out if used too excessively.
– Acupuncture or acupressure: Lack of evidence on its effectiveness. can be expensive, but could help if you are able.
– Membrane Sweeping: Seen to be very effective but can also cause vaginal bleeding, premature rupture of membranes, and cramping.
– Red Raspberry Leaf Tea: Helps keep the uterus healthy not a method of induction.
– Spicy foods: Rarely results in true labor and can cause intestinal discomfort.
– Castor oil (laxative): Risky side effects. Not proven to be effective.
– Herbs: Some herbs that have been encouraged to use in labor have been shown to be dangerous to the baby. Only take advice on herbs from a certified herbalist.
– Essential Oils: Jasmine and Clary Sage essential oils have not be proven to start labor but can potentially start labor. Testimonials say that they have noticed shorter labors with use of these oils. This roller ball is helpful!
– Blue or Black Cohosh: Limited research but the evidence we have says there are major safety concerns for using either black or blue cohosh.
– Eating Dates: Limited research. Some research shows that the rates of Pitocin use is lower with those that eat dates regularly leading up to labor.
Before using essential oils consult a certified aromatherapist's advice. Here is
a page
that is very helpful!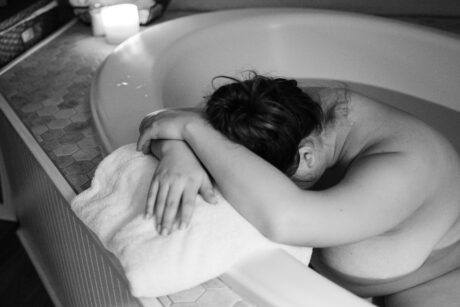 Section 4: Warning Signs and Complications in Pregnancy and Labor
In this section we will be covering the different signs that something is going wrong either in pregnancy, labor, or birth.
Video 8: Warning Signs
In this video we will discuss what some of the warning signs that something could be going wrong in your pregnancy (not medical advice)
Contact your provider if you experience any of the following during your pregnancy. They could be signs of a bigger problem, call quickly if you experience a combination of more than one of them.
1. Severe pain
2. Fever
3. Vaginal bleeding
4. Continuous vomiting
5. Headache that won't go away
6. Change in urination
7. Edema (Excessive swelling)
8. Gush of fluid
9. Visual changes
10. Baby moving less than you are used to or not moving at all. 
Activity: Download a kick counter app to use every so often to track baby's movements. (but ultimately lean into your instincts, you know your body, you know your baby).
I developed this criteria below with a midwife for when to call 911. It can help you assess if it is an emergency situation. When in doubt call your care provider or 911, follow your gut. Also included in the criteria is a criteria for when to call your care provider.
What it is: High blood sugar that develops during pregnancy.
Risk factors: Being plus sized( BMI of 25 or higher), increasing maternal age, history of GDM, history of large babies, diabetes in a close relative, being in certain ethnic groups.
Lower risk: Being under 25 years of age, "normal" weight, no close relatives with diabetes, no history of glucose intolerance, no history of poor birth outcomes.
Possible health problems that can result: Pre-eclampsia, fetal high blood sugar, first time C-section, premature birth, bigger babies, shoulder dystocia or birth injury, newborn intensive care, newborn jaundice, newborn low blood sugar, mother developing diabetes and/or heart disease later in life, baby developing excess body weight or diabetes later in life.
Ultimately a diagnosis of Gestational Diabetes does not mean you will have bad outcomes. It is a good reason to be proactive in your health and develop a thorough birth plan. Tips for managing your gestational diabetes (under the approval and direction of a care provider)
"High blood sugar can cause problems, but it can be treated with diet, exercise, and sometimes medication." Evidence Based Birth
Source: Evidence Based Birth
How common:

10-30% of pregnant women carry the GBS (most do not have symptoms)

Risks:

sepsis, pneumonia, and meningitis in newborns (1-2% risk when not treated, 0.2% if treated).
Treatment Options:
– Taking probiotics can lessen your chance of being colonized with GBS. (43% were GBS negative by the time they gave birth).
– Washing vagina with Chlorhexadine during labor (not proven to be effective).
– IV antibiotics every 4 hours during labor is shown to be effective.
Source: Evidence Based Birth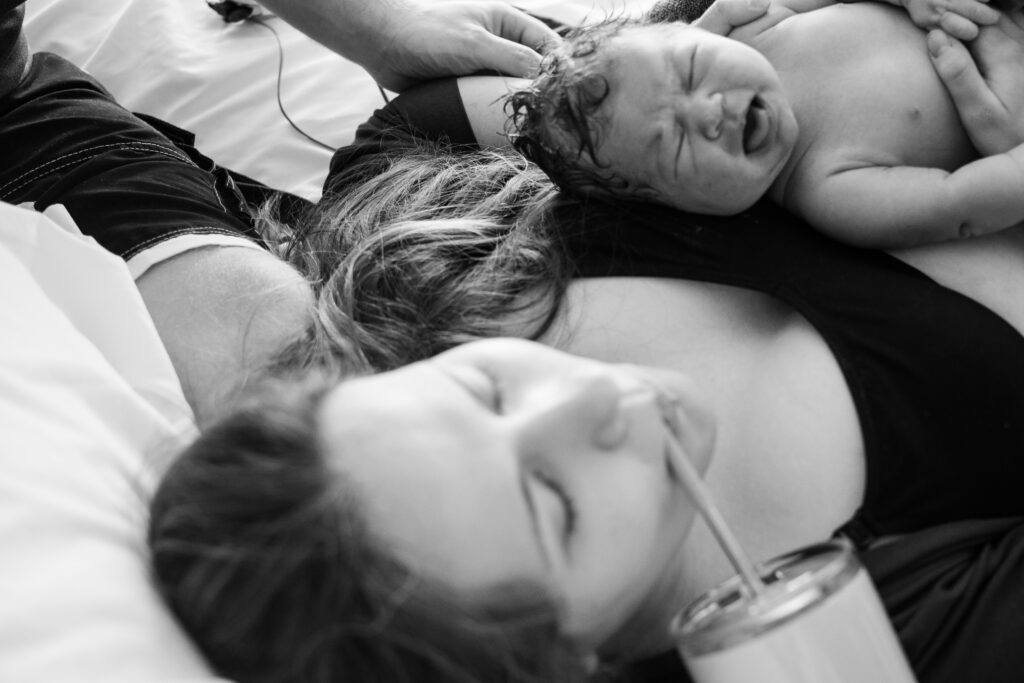 Section 5: What's Happening During Labor and Birth?
In this section you will find information on natural elements of labor and birth, C-sections, big babies, and failure to progress.
Video 9: Normal Labor Progression
in this video we will cover normal labor progression including, dilation, cervical change, station, and more.
Video 10: Stages of Labor
in this video we will talk about the 4 stages of labor. How to identify them and what happens during the individual stages.
– In stage one of labor, which lasts from the onset of labor until the cervix is fully dilated. It is the longest stage of labor.
– Anywhere from 3-6 cms in dilation.
– Contractions consistent, patterned, and causing cervical change.
1. First stage of labor:
         – Thinning (effacement) and opening (dilation) of the cervix.
         – Contractions that help your cervix thin and begin to open.
         – Active labor.
2. Second stage of labor:
        – Baby moves through the birth canal and is born
        – The pushing stage.
3. Third stage of labor: Placenta is delivered.
4. Fourth stage of labor: Recovery.
Activity: Check out this Video on Epidurals and Second stage of labor
– Final phase of the first stage of labor, following early and active labor.
– When the cervix changes from from 7 to 10 cms.
– Often lasts less than an hour but can be longer.
– The word transition means that her body is making the shift from opening the cervix to the beginning of the baby's descent.
Section 6: Pain management 
In this section you will learn what contractions feel like, medical pain management, natural pain management, and positions.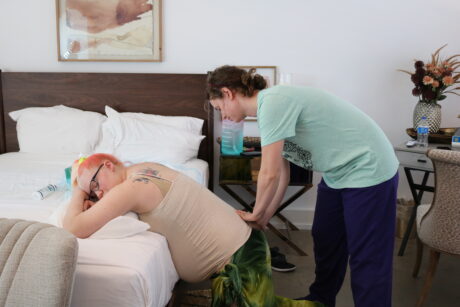 Video 12: Pain Management
in this video we will discuss labor pain and different options you have in managing that pain
Video 13: Labor Positions
In this video we will cover different positions you can labor in as well as the benefits of the individual positions
Video 14 Birthing Tools:
In this video we will discuss different tools you can use during labor and birth and the benefits of each one.
Section 7: Preparing for Labor
In this section we will discuss ways to prepare for your upcoming labor and birth!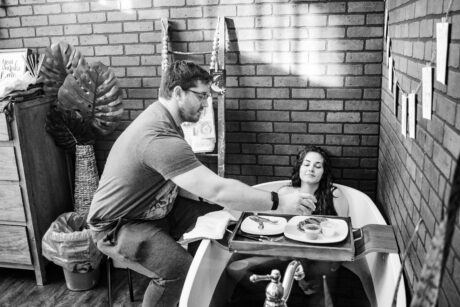 Video 15: Relaxation Practice
In this video we will go over different ways you can relax during pregnancy that can help you cope through labor more effectively.
Relaxation is very important during pregnancy and labor. It can help keep you healthy, positive, and focused. It can have huge physical impacts as well as emotional and mental aspects. Here are a few helpful ways to encourage relaxation throughout your pregnancy.
Another resource I have is this blog post on the question of "Why is Relaxation So Stressful?"
Yoga
Yoga is such a valuable tool during pregnancy because it is not only beneficial for keeping you flexible and loose but also for helping you relax. 
Fortunately there are many ways to work yoga into your routine. But even if classes or couches aren't affordable there are also great prenatal yoga videos online. 
You don't have to create a full-blown routine or follow strict yoga plans for it to be beneficial. Even if it is only used for a moment or two at the beginning or end of the day to help get you on the right foot. 
A good place to start might be to find a few poses you like that address areas where you are carrying tension and build from there. Don't feel pressured to make it this super amazing experience every single time. And if you have little kids under foot sometimes they like to play yoga too!
*Make sure you have the go ahead from your care provider before doing any rigorous yoga!
Muscle Relaxation
Check out this resource for Progressive muscle relaxation. You can use this in almost any environment. It is most helpful laying down relaxing. You can even use it alongside one of the relaxation tracks below!
The basic technique of progressive muscle relaxation is to begin with your hands by tensing and releasing individual sets of muscles along each side of your body. After your hands, work up your arms, into your shoulders and jaw, and then down the length of your body.
Again this is something that is most effective with the ideal environment but can be at least some help no matter what. If you work and have a moment to do at least your shoulders, neck, and face you can hopefully ease some of the physical stress you may be experiencing.
Get a Massage
Here are some great prenatal massages. Getting a massage from a professional that Is certified to work with pregnant clients is ideal, any massage can be beneficial. Even if it's not working everything out it will be at least a relaxing thing that you and your partner can do together. And can be a bonding time where dad can talk to the baby while mom relaxing. The baby will associate that awesome oxytocin produced by the intimacy and massage with daddy's voice.
remember that if you choose to go to a professional Massage a full-blown body massage isn't recommended early on in a pregnancy. So during your first trimester opt for a relaxing head, shoulder, arm, leg, hand or foot massage (Which is also nice during later pregnancy too).
*Get approval from your care provider before going to a massage therapist.
Deep Breathing
Deep breathing offers a number of overall health benefits: 
– Increased relaxation.
– Helps lower your heart rate
– Helps you fall sleep more quickly.
– Can help you monitor your emotions. 
Deep breathing can feel clumsy and awkward at first. But once you have done it a few times it will become more and more fluid and more and more beneficial. 
This is probably my favorite relaxation technique because it can be done anywhere at anytime. It is also the most beneficial thing you might do during pregnancy that can positively impact your labor and birth. After all you aren't likely going to be wanting to do "tree pose" while you are in labor but deep breathing is a big yes!
It is probably best early on in your learning to do deep breathing that you spend at least one 10 minute session a day for a few days to get in a good rhythm. And again you can use this alongside one of the relaxation tracks below!
Start by getting in a comfortable position and taking a deep breath, hold the breath and then release it slowly.  While doing deep breathing you can be using other relaxation techniques like yoga and Progressive Muscle Relaxation.
Guided Imagery
There are plenty of apps and even playlists available for free to help take you through a guided imagery practice, but it's also possible to do on your own.
Visualization is helpful in pregnancy but also in labor. Getting yourself as out of the moment as you can, distracted even can help coping through intensity of labor easier. But how effective it is in labor is almost directly correlated with how much time and work you put into it during pregnancy. So if that is something you want to actively use during your labor do the leg work now. 
I have a practice track below that helps you create that safe space.
Meditation
There are a number of meditation practices that combine deep breathing with guided imagery. If you want some help, check out some free apps online or listen to some of these guided meditations. 
Meditation works to combine deep breathing and, in some practices, guided imagery. The focus of meditation is to bring about a sense of calm while you work to clear your mind.
Meditation takes time and practice. It is not second nature. This relaxation technique would be very hard to do on your own. Having professional guidance is key to make it optimal. With the help of a professional they can teach you to do it on your own.
Exercise
Exercise helps your body release endorphins, which make you feel happy and relaxed.
It doesn't have to be intense exercise. In fact any exercise should be cleared by a professional. A general rule is to not do something more intense than you would have done before being pregnant and anything that you do at all do cautiously and be aware and listen to your body. 
Rest
This one sounds like a no brainer, but when I say rest I don't mean sleep for at least 8 hours at night (although do that too!). Be intentional with your resting, make it a plan. And yes we all have things we need to do even while we are pregnant but set goals and reward yourself with rest. Do the dishes and tidy the kitchen then lay down and set a timer for a half hour nap. 30 minutes will not wreck your day! 
Go Outside
Any time in fresh air and sunshine is beneficial! And it doesn't have to be for long. 
Communicate
Being able to talk freely about things you are going through physically, mentally, and emotional can go a long way to helping you. Being able to be open and honest with your partner is ideal but in addition having the support and wisdom from other moms is amazingly helpful. Especially moms who have been in similiar circumstances,
Take a Bath
At the end of a long day, nothing works better to relax your body and mind than a nice warm bath. Just avoid scalding temperatures and talk to your doctor before using any aromatherapy to make sure it's safe for the baby.
Conclusion
Relaxation is key to a healthy pregnancy, labor and birth. Find ways to slip relaxation in your schedule, not because you deserve it, even though you do, but because you and your baby need you at your best!
Safe Place Relaxation Track
Emotional Awareness Relaxation Track
Video 16: Preparing for Labor
In this section you will get practical tips on how to be best prepared for when labor begins
Video 17: Body Language of Labor/Water and Birth
In this video we will talk about different ways that the laboring mother's body communicates during labor and birth and the benefits of water elements in labor and birth
Section 8: Options in Birth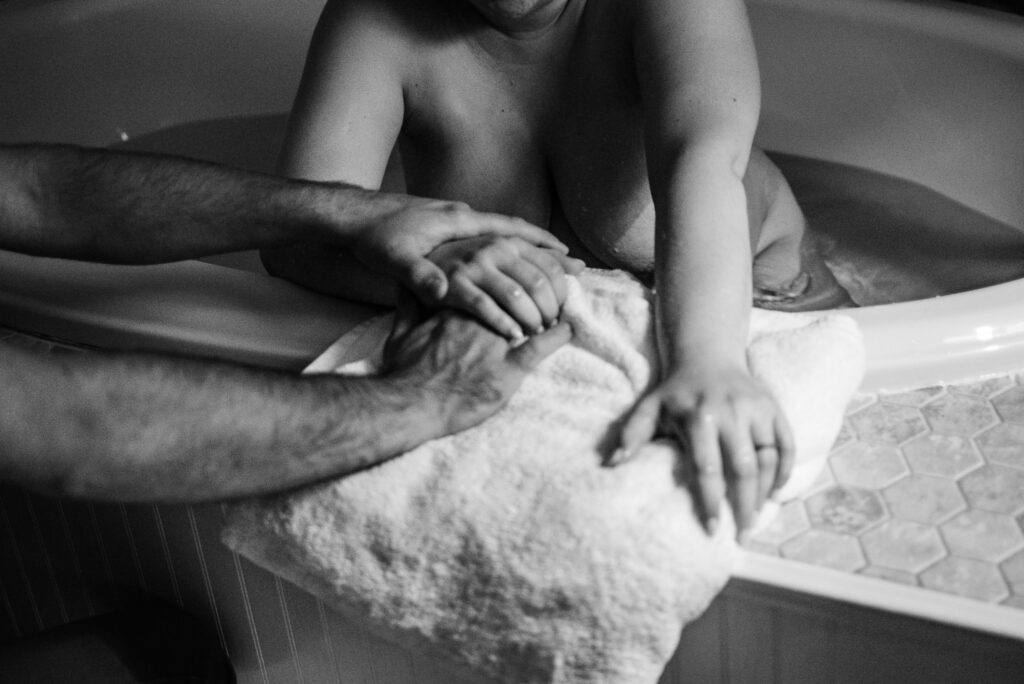 Some hospitals/birthing centers will have some of these tools but definitely not all! So make your list and ask your provider what will be available or not so you can plan accordingly.
– Birthing Ball
– Tub
– Stress balls/ reflexology tools
– Soft scarf
– Rice sock
– Hair brush
– Focal points/ affirmation cards
– Lip balm
– Breath mints
– Music
– Battery operated tea lights
– Massage tools
– Hand fan
– Lotion/ massage oils
Upright positions:
25% less likely to use a vacuum or forceps
25% less likely to have an episiotomy
54% less likely to have abnormal heart rate patterns
75% experienced less pain
Ultimately no specific position is statistically proven to be safest. The important aspect is to be flexible and to not place a lot of unneeded pressure on your sacrum.
Showering: Can bring relief to sore muscles, give a feeling of refreshment, can distract from the intensity of the contractions, encourages you to be upright, oils or herbs can be diffused in the water, lessens anxiety, aids relaxation, increases oxytocin.

Soaking in a tub: Can help soften perennial area as well as sooth the area, bring relief to sore muscles, give a feeling of refreshment, can distract from the intensity of the contractions, encourages you to be upright, oils or herbs can be diffused in the water, lessens anxiety, helps aid in relaxation, increases oxytocin.

Soaking feet: Can bring relief to sore feet, encourages you to be upright, oils or herbs can be diffused in the water, lessens anxiety, aids relaxation, increases oxytocin.

Warm or cool compresses: Help warm or cool mother, aids in relaxation, can be placed over eyes to keep bright lights out, can ease headaches.
Source: Evidence Based Birth  
Video 18: Cervical Checks
"Studies also show that vaginal exams are not really accurate. When checking for exact dilation, studies show the accuracy to be around 48-56% . When allowing a margin of  1 cm (which is a large margin of error when this information is used to time interventions or labor "cut-offs") the accuracy is around 89-91%." – Birth Without Fear
Cervical checks while pregnant likely have little to no value. They increase your risk of infection and premature labor. And if you are dilated it can give you false hope or worse, discouragement. And even if the exam shows that you are dilated it doesn't really mean anything when you are not in labor. A woman can be at 2-6 cms for days or even weeks before labor begins.
Cervical checks during labor are also a double edged sword in labor. If you are checked and you have progressed it can give you encouragement to know that you are making progress. But if you haven't progressed as far as you thought or hoped then you can get discouraged. And when a mother is discouraged in labor she is more likely to have a slow progression in labor and more likely to choose interventions.
When it comes to cervical checks discuss risks and benefits with your provider, partner, and your doula if you have one. 
Source: Evidence Based Birth , Birth Without Fear , National Center for Biotechnology Information 
There are two amazing alternative options to cervical checks! They are more accurate and reduce the risks of discouragement and infections. Check out the video below for more details!
Purple Line:
-A study showed that the purple line appeared in 75.3% of women during the active phase of labor and appearance of the purple line in the prediction of labor progress had 90.2% sensitivity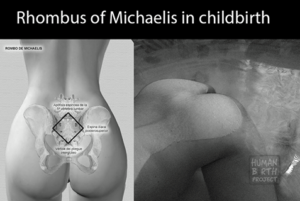 – Appears at the beginning of the 2nd stage of labor (fully dilated and ready to push)
– Mother's head will role back, and reach hands upward.
– Always appears and is a natural sign of the final stages of labor
Source: Evidence Based Birth , Birth Without Fear , National Center for Biotechnology Information , Human Birth Project , Birthworks International 
Talk through these possible scenarios with your partner about what you might consider doing in those circumstances. This is not a test, there are no right or wrong answers, it's just good practice and can help bring you and your partner to the same page.
Birth Options Practice Scenarios
– You've Decided to have an Epidural. 5 Hours after the administration it stops working, even after the anesthesiologist adjusts the catheter and also increases the dosage.
– You are having twins. One twin is head down. You are told you must have an epidural and be prepared for a C-section
– You labor is going faster than you anticipated. You arrive at the hospital at 8 cm. They tell you it's too late to have an epidural but you planned to have one.
– Your doctor tells you  at a prenatal visit "Things like birth plans keep me from doing my job."
– You've been experiencing a tremendous backache in labor. The nurse tells you that the baby is posterior (sunny side up)
– You've been practicing for week on the breathing, relaxation and Comfort Techniques. You didn't plan to use any medication. You're in labor, 4 cm, in a lot of pain it's harder than you thought it was going to be.
– You really desire to have a natural birth. The hospital you are giving birth at has a 75% c-section rate.
– You are at 6 cm and coping well, even though it is hard. The doctor suggests pitocin to speed up the labor.
– At 33 weeks your doctor informs you that your baby measures big and will likely be close to 8.5 lbs. The doctor advises you to schedule a c-section to ensure a safe birth.
 – You have been in labor for ten hours, you are at 5 cms and you feel good about how you are handling the contractions. You are asked if you would like your water broken to speed up labor.
– Your labor is going slower than you expected, you are very tired and at 3-4 cms.
– you are 1 day past your due date, your doctor says because baby is measuring big he "will not let you go more than a week past your due date" and that we need to schedule a c-section.
– Your doctor performs a vaginal exam at a routine appointment at 39 weeks. Over the next hour you notice bleeding and cramping. You call to inform your doctor and he says that he stripped your membranes and that your symptoms are normal.
Activity: Go over these scenarios with your birthing team
Video 19: Directed Vs. Spontaneous Pushing: 
Directed Pushing (Purple Pushing): Doctor, Midwife, or Nurse will direct you through pushing, usually this means holding your breath as you bear down for the count of ten repeatedly until the contraction subsides and you rest.

Spontaneous Pushing: Self guided and is in response to the body's natural urge to push (fetal ejection response), does not necessarily correspond to a held breath, but is often on the breath, or short holds on the breath or with sound. Usually comes not long after 10 cms is reached.
Directed Pushing:

Can reduce pushing time (10-15 minutes), causes you to push sooner in the contraction than you would naturally. increases the likelihood of tearing, could lead to bladder problems, can have smaller bladder capacity postpartum, pelvic floor problems, can cause baby to become more tired and could lead to distress, reduces oxygen to the mother and baby.

S

pontaneous Pushing:

Less stressful on your baby, lessens the likelihood of tearing, less likely to develop pelvic floor issues, is harder to do if you have an epidural because you may not feel the urge to push.
All of these are not likely to be long term problems so the mother should do what feels more comfortable to her and best for her situation.
Source: WHO, AIMS, Medical Journals, Evidence Based Birth , Cochrane Library    
Section 9: Postpartum
In this section we will talk about the options you will have from the fourth stage of labor (delivery of the placenta) through the first few days of your baby's life. We will also cover some elements of the fourth trimester (your first 3-4 months after baby is born).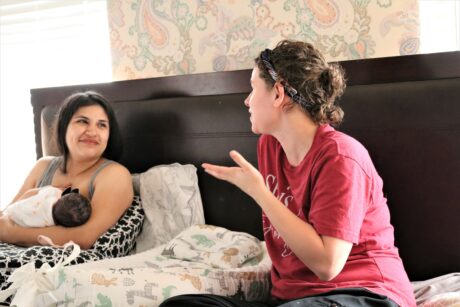 Video 20: Postpartum Options
This video covers options you will have for your healthcare immediately after birth through the first few days of baby's life. 
Video 21: Postpartum Depression
In this video we will cover postpartum depression from risk factors, warning signs, prevention, to getting help if it develops.
Postpartum Depression can look different for each person. But if you have any one of the following it is best to contact your care provider. Early diagnosis can help prevent you from prolonged effects.
Postpartum Depression Symptoms:
– Depressed mood or severe mood swings                            
– Difficulty bonding with your baby                                                 
– Withdrawing from family and friends
– Excessive crying
– Loss of appetite or eating much more than usual
– Inability to sleep
– sleeping too much
– Overwhelming fatigue
– Reduced interest and pleasure in activities
– Intense irritability/anger
– Fear that you're not a good mother
– Hopelessness
– Feelings of worthlessness, shame, guilt or inadequacy
-Restlessness
– Diminished ability to concentrate or make decisions
– Severe anxiety/panic attacks
– Thoughts of harming yourself or your baby
– Thoughts of death/ suicide
Symptoms of Postpartum Psychosis:
– Delusions or strange beliefs
– Hallucinations (seeing or hearing things that aren't there)
– Feeling very irritated
– Hyperactivity
– Decreased need for or inability to sleep
– Paranoia and suspiciousness
– Rapid mood swings
– Difficulty communicating at times
*It is important that you and your family is aware of all of these symptoms for both PPD and PPS so that they can be watching you as well. 
When to see a doctor:
– If feelings don't fade after a couple of weeks
– Are getting worse, making it hard to care for baby
– Make it hard to complete everyday tasks
– Include thoughts of harming yourself or your baby.
Suicide Prevention Hotline: 1-800-273-8255 (TALK)
Source: Mayo Clinic    
Your risk factors increase your chances of having postpartum depression but nothing will make it happen for sure. The best thing you can do is to care for your health and be mindful of your state of mind. Caring for you physically, emotionally, spiritually, and mentally is caring for your baby too.
– Exercise when you can.
– Maintain a healthy diet.
– Make time to rest.
– Add fish oils to your diet. The vitamins are a great option if you don't like to eat fish.
– Resist isolation. Join a support group or find a place to make mom friends that you can share experiences with.
– Create time for yourself. Even if it's just a few moments each day.
– Communicate with your care provider in advance to create a plan.
– Complete the postpartum depression questionnaire and keep in mind the questions on it occasionally (you will likely be given it by your care provider)
– Be aware of yourself and your needs.
– Get help from families and friends before, during, and after birth so that you can be more at peace.
– Choose a natural healthy childbirth to avoid birth trauma.
– Hire a birth or postpartum doula.
 – Breastfeed.
– Find a care provider and birth setting that are supportive of your desires for your birth.
You will likely receive a similar quiz at the hospital when you deliver and perhaps later as well. But having these questions on hand to help you continually evaluate your emotions can be a benefit.
1. Have you been able to laugh and see the funny side of things as you usually do?
2. Have you been able to enjoy things as much as you used to?3. Have you been blaming yourself unnecessarily when things go wrong?
4. Have you been anxious or worried for no good reason?
5. Have you felt scared or panicked for no good reason?
6. Have you been feeling overwhelmed?
7. Have you had difficulty sleeping even when the baby is asleep and the house is quiet?
8. Have you felt sad or miserable?
9. Have you been so unhappy that you've been crying?
10. Have you thought of harming yourself or your baby?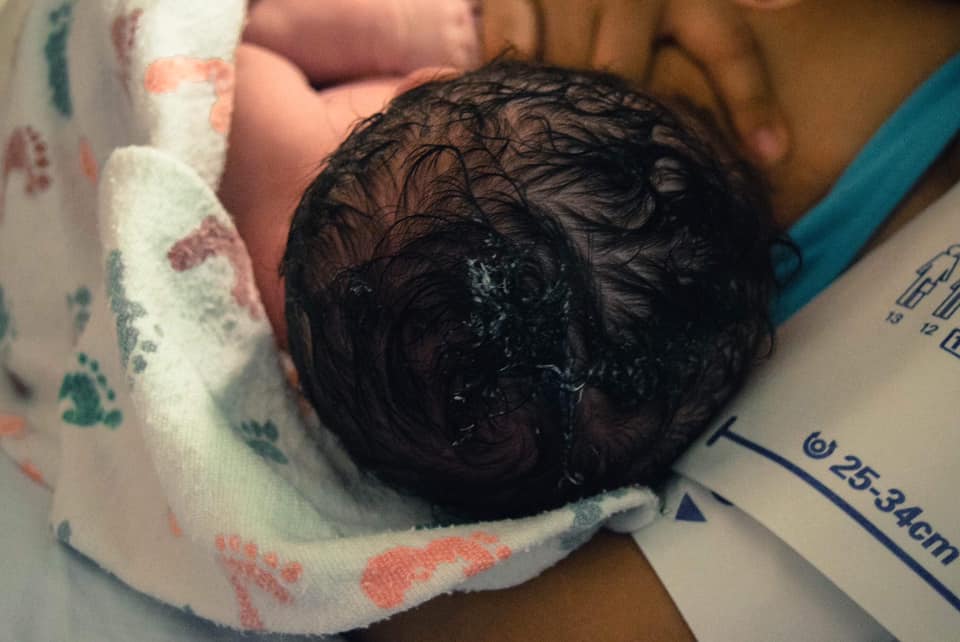 Section 10: Breastfeeding
In this section we will cover initiating breastfeeding, helpful tips, benefits of breastfeeding to mother and baby, common breastfeeding ailments, and helpful breastfeeding remedies.
Video 22: Breastfeeding
In this video we will cover initiating, latching, baby's reflexes and instincts, positioning, getting the support and resources you need, common struggles, and how long to breastfeed.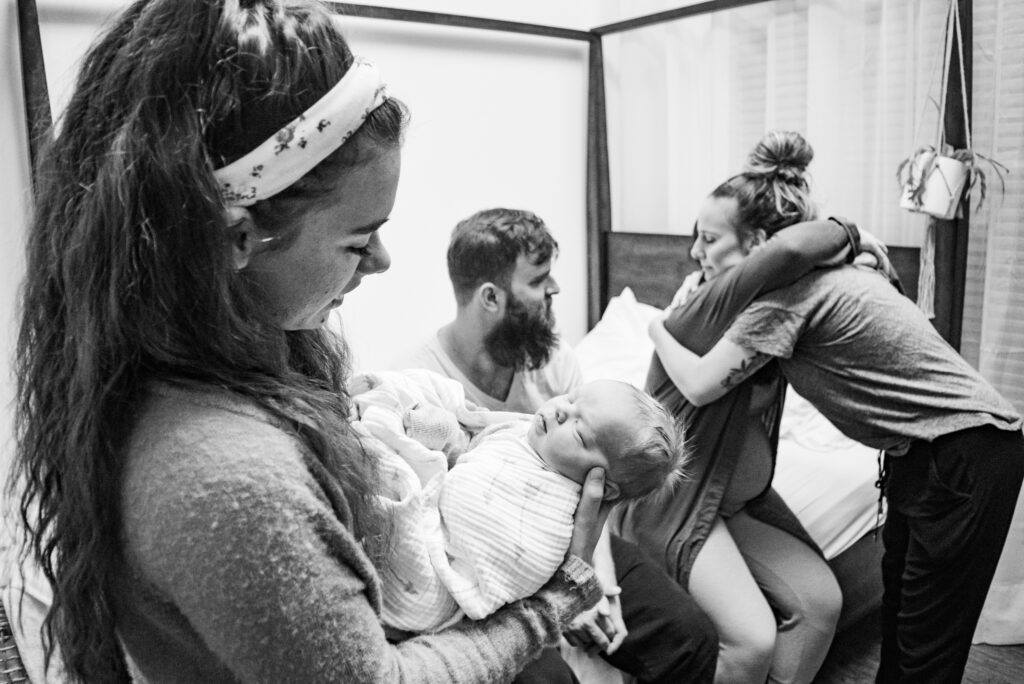 Section 11: Summary
In this section we will summarize important things that we learned!