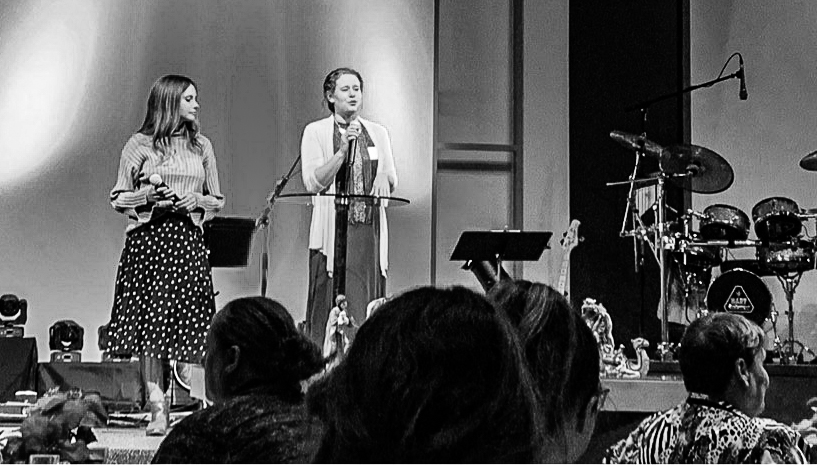 My mission as a doula, educator, and activist is to help families embrace an abundant life. I give these families my time, my hands, my knowledge, my passion, and my heart. I believe in my work and I believe in its ability to make a difference. I also believe in the people that I serve. I believe that through their unique journeys they can come out stronger and closer to each other and God than before. Building strong families, to build strong communities, to build the kingdom of God.

Reading and rereading the life story of Jesus I see time and time again that he didn't just meet spiritual needs. He met physical needs too, sometimes he met the physical needs first, sometimes that is all he met. Several times he would heal someone and instruct them to tell no one! I want to follow that example and serve families where their needs are to be the hands and feet of Jesus in their lives. I also want to help empower others to be more effective witnesses wherever they are called to be.
I believe in missionaries, ministers, pastors, midwives, birth workers, medical staff, birthing centers, hospitals and more! I believe that together we can do anything to help the people who need the help the most. My desire is to work hand and hand with anyone I can so that we can be a strong, Christian, planet wide community.
As a doula I view my role as a glue helping connect as many people as I can with the resources that they need. And through that empowering, not only the individuals and families, but the ministries and resources that support them.
I decided in July of 2018 to accept the call into being a doula as a ministry. And because of that my services have been income based or free. My hope is that no family has to choose to not have a doula or other important services like Childbirth education or breastfeeding education because they can't afford it. I have helped many families who otherwise would have had no support or help. And I have been blessed to watch those lives changed!
But I want to do more!
Colossians 3:14 "And over all these virtues put on love, which binds them all together in perfect unity."
Voices of Eve Financial Update and Plan:
Voices of Eve is a growing ministry. The unfortunate part about running a ministry in its early stages is there isn't much financial room for advertising. That makes it hard for low income families to hear about the income based services for them. It is hard when I want to serve as many families as I can but getting the word out to the families who need it is often difficult.
I have had to make difficult choices and have chosen to be without basic needs many times to do my ministry. But I do not want the care of my family to be completely discarded. So as the vision grows the need for others to join in with me is becoming necessary.
I have worked tirelessly finding work on the side like house cleaning, babysitting, organizing, photography work, crafting, and more to make sure that my family is cared for and so are my low income families. The difficult part about constantly searching and working in side hustles is they take away from precious time serving in my ministry and serving my own family. Because as much good as I am doing now I want to do so so much more!
My clients and those I am called to serve deserve the best. I hope to give them that as often as I can.
What is the Ministry Plan for 2021:
To establish regular education classes at churches or Christian businesses/ministries. My goal is to host at least 2 classes a month in various areas around DFW. I also hope to record those sessions to be able to share with others.
To establish regular support groups in churches or Christian businesses/ministries. My goal is to host at least 2 support groups a month in various areas around DFW.
To create a Pregnancy, Labor, and Birth curriculum to help empower the women in the Village of Lowangilia, Kenya where my parents, Alan and Leah Fleming, serve. After it is tested there I will reach out to other missionaries and organizations in the area to help get them copies of the curriculum.
To speak at churches, businesses, and small groups about my ministry. I hope to get 1 speaking engagement a month to start out. Through this I hope to raise support for my ministry and gain prayer partners.
Choose 1 country a year to create curricula for and work to get it into the hands of ministers on the ground.
To travel to other countries to teach local women and other ministers on how to teach classes that give their people groups the knowledge they need to live an abundant life.
To create resources and educational opportunities for homeless shelters, pregnancy resource centers, prisons, and more.
Create online resources like breastfeeding classes to reach families with no access and low funds.
Create a scholarship to help moms get services like doula care and classes.
Create a Christian and evidence based Birth Worker online school
Create a Christian based Sexual health and education class.
Create workshops for christian birth workers on how to share the love of Jesus through their work.
And anything else God lays on my heart in the years to come.
I want to keep doing my work and keep serving those in need. In fact I want to do more. I chose to do that by partnering with World Outreach Ministries they will be accepting donations for me so that my supporters can get tax exemptions for their donations. And in addition to that they will be doing accounting services for my ministry as well as offering regular and free training opportunities!
I am so excited to be partnering with them and I can't wait to see where this new journey will take me! If you would like to becoming a supporter of my ministry through prayer, donations, or more check out this link!
And thank you, thank you from the bottom of my heart for following and supporting me the past 5 years! You make it all possible!